My English boyfriend Joe and I experienced a big earthquake in Japan.
His tourist visa expired on the same day.
What happened? Did police catch him??
Earthquake Visa Problem
Situation
We had a big earthquake in the early morning (3am) on 6th of September 2018.
We had a flight booking, Airbnb booking and Joe's tourist visa expired on the same day. There was a black out.
About how we spent the days.↓↓
In the morning
We woke up at 3am because of the earthquake.
First, a shock lasted only 30 seconds. We checked some information on internet and went back to bed again.
Second, the aftershock happened and there was a blackout. But I thought it would be fixed before the sunrise. We went to bed again.
I was surprised when I woke up. Because there was still a blackout.
We couldn't get any information about the airport (New Chitose Airport). We didn't want to miss the flight. We decided to go to the airport anyway.
On the way to the airport
The local buses didn't work to a station.
My mother gave us lift to an airport shuttle bus terminal/Subway station. There was a notice "No Operation" No buses, No subway.
We went to a train station, but they weren't operating either.
She drove for us to the airport in Chitose city. The motorway was closed.
The lights at the crossing didn't work. She had to drive very carefully.
Some big crossing had police officers for crossing safely, but most of the crossing didn't have them. It was very dangerous and scary.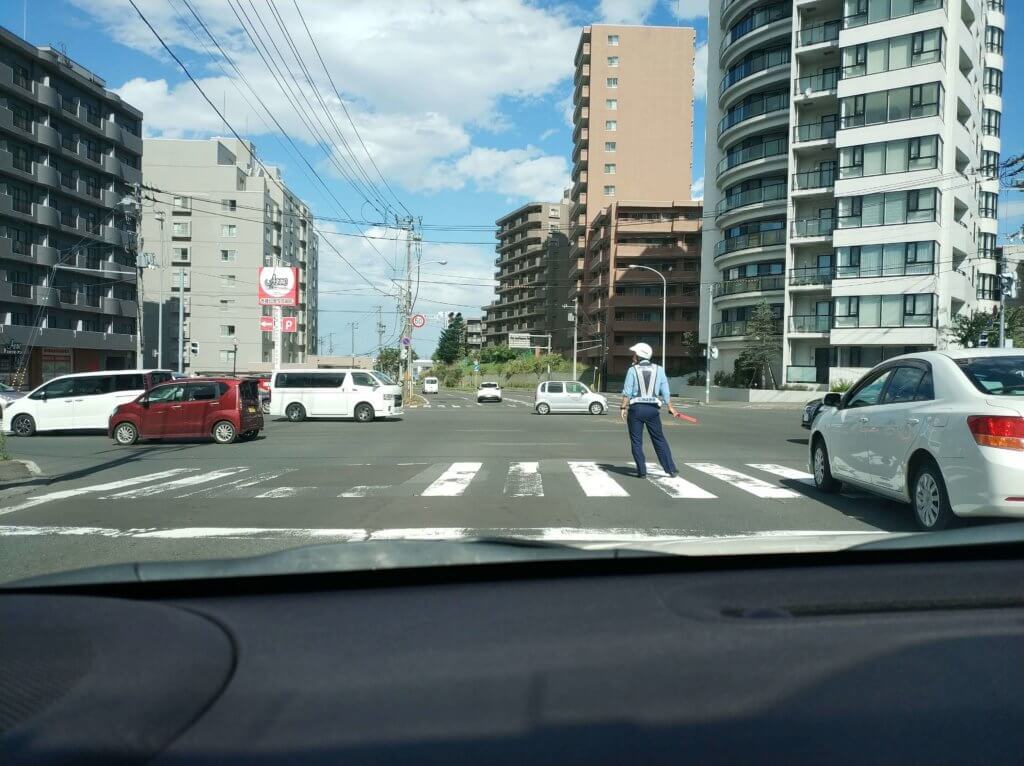 We saw some buildings were broken in Chitose city, it is close to the biggest damaged town Atsuma.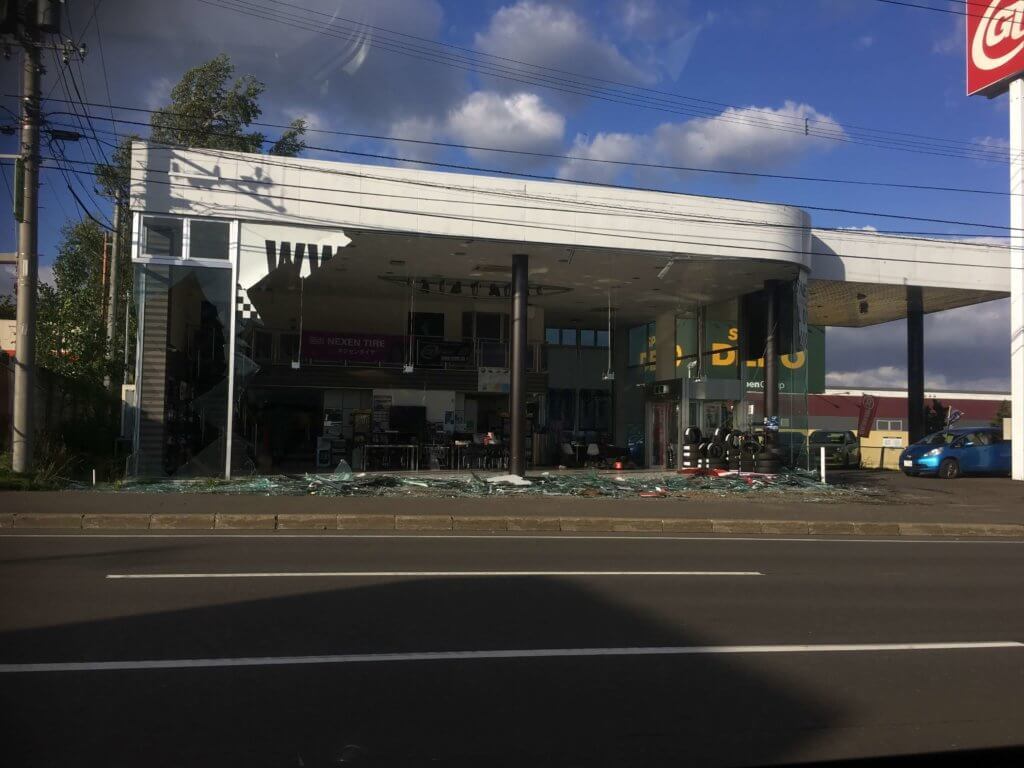 Usually, from Sapporo to the airport takes 1 hour by car. But we took 2-3 hours.
At the airport
No Flight
The parking ticket machine was the only thing working, so we had to pay lol! We parked the car and looked around.
So many people were outside of the domestic terminal. No one was at the international terminal.
We went to the international terminal. A security guard said "No flight, you can't go inside of the airport for safety reasons."
I've heard the roof fell down. All flights were cancelled.
Visa
We needed to ask about Joe's visa. We explained it to the security guard, he told us where the immigration office was.
We could visit the office and asked about the visa. We showed Joe's passport and flight ticket.
They understood our situation, but their system was not working. They left a note saying that Joe was supposed to leave but couldn't because of the natural disaster.
They said "You should book a flight as soon as possible once we get electricity back, then just come back to the airport to take the flight, no problem." They were so kind and nice.
We've done as much as we could. We've decided to go back to Sapporo.
In Sapporo
We didn't have any wifi. We couldn't do anything about bookings or visa.
On the next day, we found some houses which is a block away from my house got electricity back. We went there to find free wifi.
Airbnb
We sent an email to the Airbnb host first, because we were suppose to come 2 days before.
The host is nice, she understood about our situation, accept the cancellation and worried about us.
A day later, it was Friday, we got electricity back finally!
Officially we could cancel the booking on the website.
The cancellation policy of Airbnb, it is free to cancel if it is a natural disaster.
Flight ticket
We booked with Air Asia which is a low cost airline. They knew we couldn't fly because of the earthquake. We got an email for the new booking as below.
Change the destination within 14 days
Change the departure day to the same destination within 14 days
Refund to credit to use for next time to book within 90 days
Refund to the credit card
We've decided to choose No.2.
We called the number, but so many people were calling at the same time. We used an online chat system. 100 people were waiting to chat. But it is chatting system, no fee to wait, we just needed to open the web page. We could do whatever until our turn.
30 minutes later, we got our turn to chat with the agent and could change our flight smoothly.
Leaving Japan
We booked a flight for the Monday morning.
We went to the airport much earlier than usual just in case. We checked in, passed the carry-on luggage check, and arrived at the passport control.
I let Joe go first just in case. Joe can't speak Japanese. If he needs help I can if I go after him.
Yes something happened.
The person saw Joe's passport and stopped him.
He called another person, the person took Joe to a side. I came to him to help.
The person said "I know your situation, you came to the office on the earthquake day." in Japanese to me. "You have to fill in a form. And we need a signature by our boss, but he is not here now. It would have been good if you could have come to an immigration office in Sapporo though."
What!? The other person said it is no problem before. Also black out was fixed at the weekend. When could we go?
Joe had to fill in the form to extend the tourist visa, write the reason on a paper.
EARTHQUAKE
They asked " Can you write more?"
Of course no. It is the only reason.
"You have to pay 4,000 yen to buy a stamp at the post office to extend your visa."
WHAAAAT!? Does he have to pay? Not his fault! Pay for a stamp? Post office wasn't opened in this emergency situation.
"This is a special situation, we accept for you to pay by cash."
We didn't have any cash in Japanese Yen because we were leaving. We asked to pay by credit card but we couldn't.
Joe wasn't happy with this situation so he wanted to ask some to the person in English. "Can you speak English?"
The guy said "No!"
I translated to ask the reason why he needed to pay for such a fee even it was a natural disaster. The guy was so angry. "If you don't pay, YOU CAN NOT LEAVE FROM JAPAN FOR ANY REASON!!"
We didn't have choice. I had to run to an ATM. Back to the hand luggage check, explained I need to go back for emergency reason. Withdraw cash and came back.
We paid it and waited for 30 minutes.
A person came to us with Joe's passport. There was a 15 days extension visa on it..
"You got this visa but you have to leave now. And be careful for next time, if you want to stay long time you should get a right visa. We have option."
I asked what is the option.
The guy said "For example marriage visa?"
What!? An immigration officer recommend to get married for getting a visa? Such a personal thing?
I was so disappointed with this experience.
Anyway we could take the flight to go to Thailand.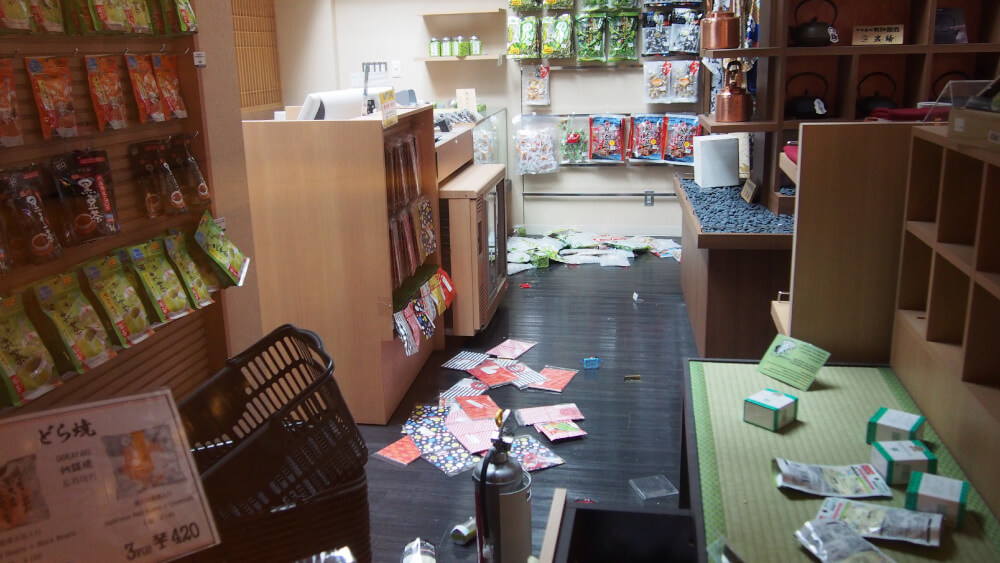 Our earthquake experience wasn't bad until this as I wrote on the other article.
But this part of the experience was not good…